Ibanez PNB14EOPN Performance Series Acoustic Electric Parlor Bass Guitar
Out Of Stock (Hide From Search)
The PNB14E Parlor acoustic-electric bass guitar is a short scale acoustic bass guitar that utilizes a parlor body shape. This compact instrument is ideal for situations such as playing on the couch, outdoors, as well as more informal occasions. However, the PBN14E Parlor acoustic-electric bass is also a valuable onstage tool. Since the 24.7" short scale is similar in feel to a regular guitar, it is more comfortable for both guitarists and electric bassists to play than a full-size acoustic bass. The shorter scale and compact parlor body also make it a more user-friendly platform for beginners. Despite the compact body size, the PNB14E Parlor bass guitar has an impressively powerful acoustic volume. The "open pore" finish, as well as the African mahogany top, back and sides, contribute greatly to the overall tone. The neck joint being located at the 12th fret means the bridge connects at the center of the lower bout, which maximizes sonic resonance. The "open pore" finish creates a more vintage feel, allowing the natural texture of the wood to be felt. The satin finish of the mahogany neck helps facilitate fast and smooth position changes. The Ibanez Under Saddle Pickup accurately reproduces the acoustic nature of the bass, while the Ibanez AEQ-SP2 preamp provides the extra punch of onboard EQ, and the convenience of an easy-to-read digital tuner located on the upper bout
SPECS
body shape Parlor body
top Okoume top
back & sides Okoume back & Okoume sides
neck PNB Maple neck
fretboard Laurel fretboard
bridge Laurel bridge
inlay White dot inlay
soundhole rosette Black & White multi
tuning machine Chrome Die-cast tuners
nut material Plastic
number of frets 18
saddle material Plastic
string space 19mm
pickup Ibanez Undersaddle
preamp Ibanez AEQ-2T preamp w/Onboard tuner
output jack 1/4" output
NECK DIMENSIONS
Scale : 628.65mm/24.75"
a : Width 43mm at NUT
b : Width 55mm at 14F
c : Thickness 21.5mm at 1F
d : Thickness 23mm at 7F
Radius : 400mmR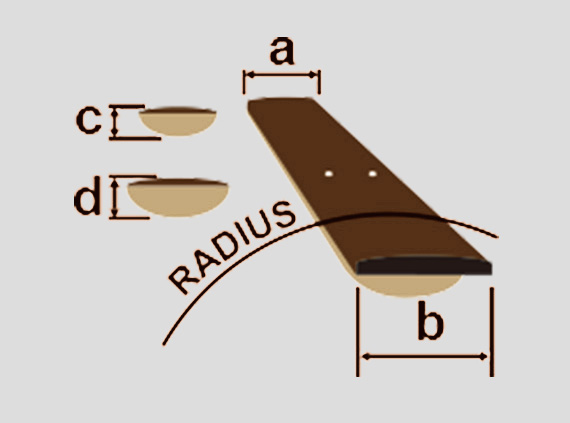 DESCRIPTION
Guitar Neck Diagram
a: Width of the neck at the nut
b: Width of the neck at the first fret
c: Thickness of the neck at the first fret
d: Thickness of the neck at the twelfth fret
Radius: Radius of the fingerboard
BODY DIMENSIONS
a : Length 19 3/8"
b : Width 14 "
c : Max Depth 4 1/4"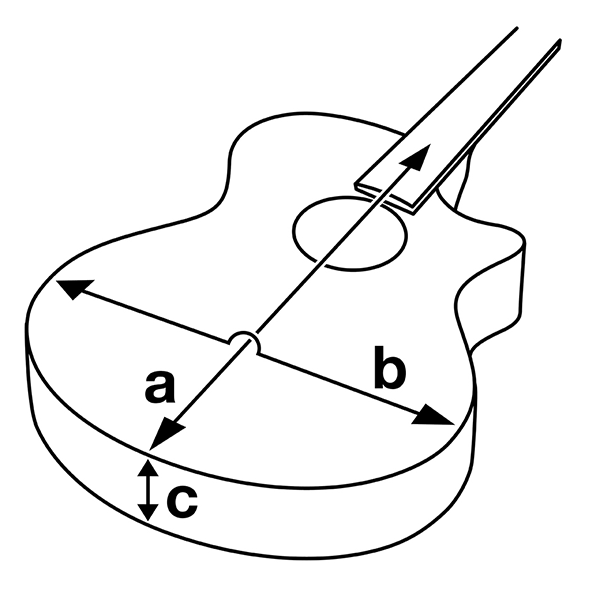 DESCRIPTION
Guitar Body Diagram
A: Length of the body
B: Maximum width of the body
C: Maximum depth of the body
PREAMP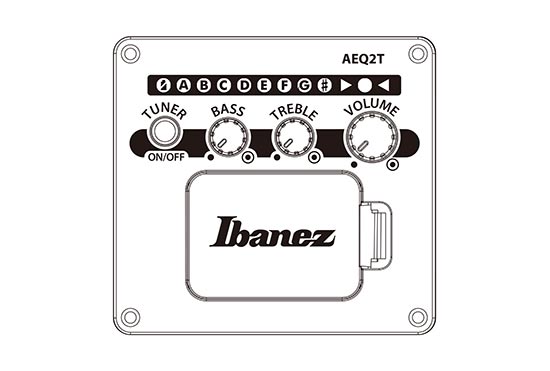 DESCRIPTION
The neck side of the preamp is the top of the control panel. There is one button and three knobs along the top of the control panel. The button furthest to the left is the tuner on/off switch. To the right of that are the bass, treble, and volume knobs.
Features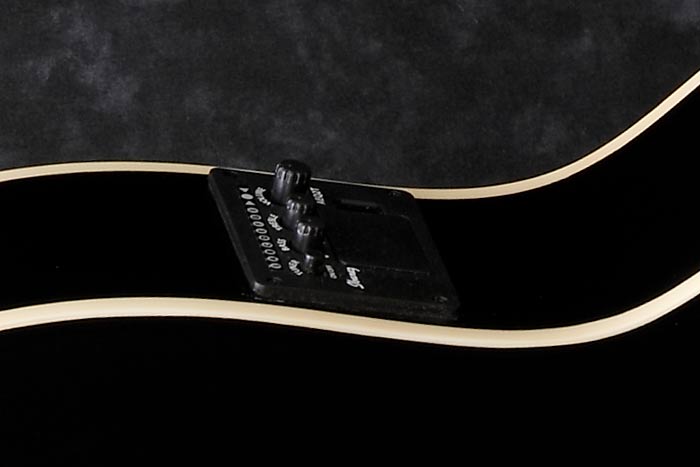 Ibanez AEQ-2T preamp w/Onboard tuner
AEQ-2T preamp is specifically-designed to adjust the frequencies of a bass and Treble, and allows operation of the built-in tuner without the instrument being plugged in.